Chicago Textile Recycling
Wipeco, Inc. is proud to offer a great textile recycling fundrasing program. Our dedicated division, Chicago Textile Recycling, works with organizations to help them host a clothing drive. We then purchase the clothing from the organization as a fundraiser. This green fundraiser is a great way to recycle used clothing, keeping it out of the landfill while easily raising money for your organization. We provide easy fundraising opportunties for churches, charities, synagogues, schools, boy scout troops, girl scout troops, athletic clubs or community organizations. We will help you to create this easy project to benefit your organization with no financial obligation on your part.
Interested in hosting a clothing drive? Check out Chicago Textile Recycling!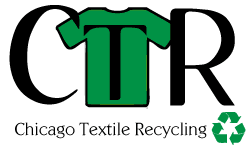 Clothing and household textiles currently make-up 4.67% of the waste stream. Help the environment by contacting
Chicago Textile Recycling

today!