When will my order ship?
It is our pleasure to reassure you that any in-stock items ordered before 12 pm CST will ship the same day. Furthermore any in-stock items ordered after 12 pm CST will ship the next business day. Any backordered or non-stock items will take usually 2-3 days (or longer) to ship. Call our customer service department for more specific shipping questions.
How will my order ship?
Your order will ship the most economic way possible depending on its destination. Wipeco Inc. uses our own truck, UPS and Common Carrier and will help you decide which method would be the cheapest, fastest method of shipment.
How long will UPS orders take?
Follow the chart below to determine your UPS shipping time.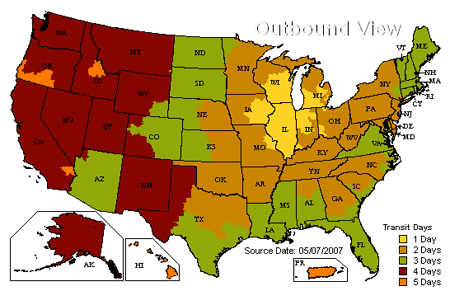 Where will my order ship from?
Most orders will ship from our main warehouse in Chicago, Illinois.

Wipeco Inc.
171 S. Gary Ave.
Carol Stream, IL 60188
Save on shipping! Order your janitorial supplies with your rags.